International Webinar on 'Plants and Microbes for Environmental Sustainability'
---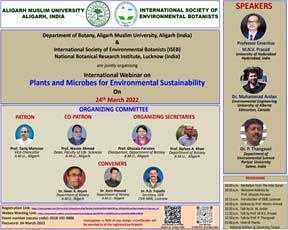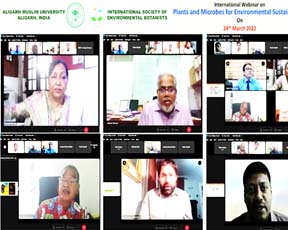 A one day International Webinar on "Plants and Microbes for Environmental Sustainability" was organized by Department of Botany, Aligarh Muslim University, Aligarh, in collaboration with International Society of Environmental Botanist (ISEB), CSIR-National Botanical Research Institute (NBRI), Lucknow on March 24, 2022.
The eminent speakers were Prof. Emeritus M.N.V. Prasad, Department of Plant Sciences, University of Hyderabad (Telangana); Dr. P. Thangavel, Department of Environmental Science, Periyar University, Salem (Tamil Nadu), and Dr. Muhammad Arslan, Environmental Engineering Department, University of Alberta, Edmonton, Canada.
Prof. Ghazala Parveen, chairperson, Department of Botany, AMU and the co-organizing secretary of the webinar extended a welcome address to the dignitaries and to the virtual participants. In her welcome address, Prof. Parveen mentioned that the collaboration of Department of Botany with ISEB and NBRI, Lucknow would improve joint academic activities in the campus of AMU and NBRI, Lucknow.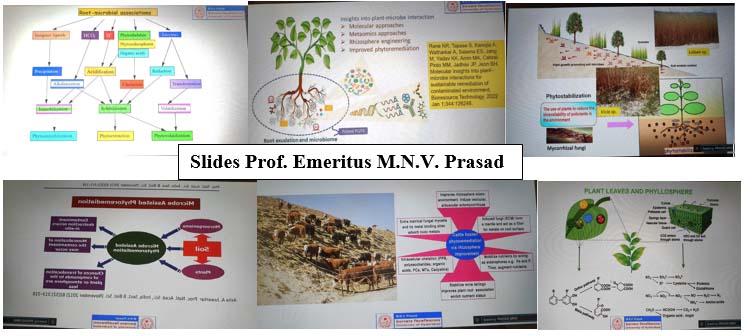 Dr. Naser A. Anjum, Assistant Professor, Fellow ISEB and the Convener of the webinar introduced the rationale and objective of the online event to the audience. Prof. Nafees A. Khan, organizing secretary, gave the insights into the webinar theme, and also enlightened the role of biological approach comprising plants and microbes in sustainable control of varied environmental issues, and eventually in achieving the environmental sustainability.
Dr. R.D. Tripathi, Secretary, ISEB, Lucknow and co-convener of the webinar, introduced ISEB to the gathering and expressed his desire to organize more AMU-ISEB/NBRI collaborative events again in future. In his presidential address, Prof. Wasim Ahmad, Dean, Faculty of Life Sciences, AMU appreciated the efforts of the organizing team for the timely and significant theme of the webinar.
Prof. Emeritus M.N.V. Prasad enlightened the significance of plants, microbes, and hybrid system in minimizing metal-pollutant's load, and thereby achieving environmental sustainability. The second speaker Dr. Muhammad Arslan discussed the success story of the floating treatment wetlands (FTWs), comprising consortium of unique plants and microbes (plants-bacteria synergism) as cost-effective, and an appropriate eco-technology for large-scale cleanup of sewage and industrial wastewater. The last speaker Dr. P. Thangavel explained the mechanisms underlying metal hyperaccumulation in plants and elaborated its role in cleanup of the metal contaminated sites. A round of discussion followed each talk.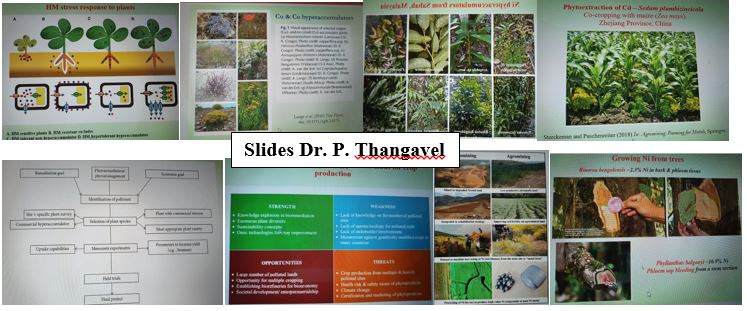 Dr. Asim Masood, Assistant Professor and co-convener highlighted the major take-home message of the webinar, and also gave the vote of thanks. Dr. Naser A. Anjum convened this international webinar.