WORLD ENVIRONMENT DAY CELEBRATION AT 2019
---
CSIR-NBRI. Lucknow and International Society of Environmental Botanists (ISEB) jointly celebrated World Environment Day 2019. Dr Ashiho A. Mao, Director, Botanical Survey of India, Ministry of Environment Forest and Climate Change, Government of India was the Chief Guest of the Function.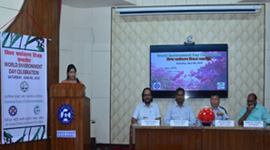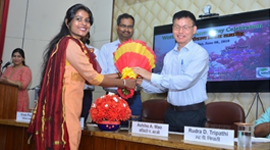 A poster exhibition by the ENVIS Centre of the CSIR-NBRI was displayed to create awareness about the plants and Pollution. The information on different pollution mitigating plants was also given. During the programme prizes were also distributed to the winner of the Environment Day Quiz contest held in the institute earlier June 04, 2019.
Earlier Dr. Tripathi, Secretary, ISEB highlighted the genesis of the programme. He informed that CSIR-NBRI has been working on environmental protection and climate change forever the last two decades. Institute has reported many plants that mitigate water and air pollution and are currently being used to purify rivers and air.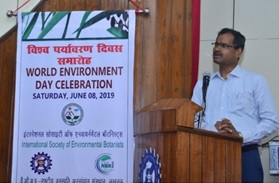 While welcoming the Chief Guest, Prof S.K. Barik, Director, CSIR-NBRI discussed the importance of environment day and highlighted this years' theme "Air Pollution'. He said that air pollution has reached on hazardous level globally and we have to jointly tackle this problem. The Chief Guest of the function, Dr. Ashiho A. Mao, in his lecture informed about the Rhododendron tree found in North Eastern Himalayan regions from 600 meter to 6000 meter altitude. He said that this plant is considered as an indicator of height in the Himalayan forest area. In the north-eastern Himalaya region, many species of different colours of Rhododendron are found. This plant has been preserved by the Sikkim state by establishing a sanctuary. It is also used as a beverage in Sikkim. He also shared the visual scenes of Rhododendron plants growing naturally in the Himalayan areas.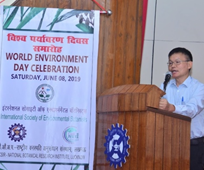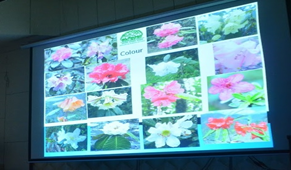 While discussing environment and climate change, Dr. Mao said that the number of trees per head in India is the lowest in the world. As the global temperature of the environment is continuously increasing, we must ensure to plant at least 5 trees per head in the coming monsoon season. This initiative will help to provide a safe and clean environment for further generations. He also informed the effects of the Botanical Survey of India for plantation. He mentioned the BSI will plant approx. 35000 plants in north-eastern regions in the coming monsoon season.