22nd Foundation Day of International Society of Environmental Botanists
---
It is a matter of great pride and satisfaction that CSIR_NBRI based International Society of Environmental Botanists (ISEB)has completed 27 years of its existence. It was founded on 3rd December 1994 under the guidance and inspiration of Dr. P.V. Sane, the then Director of NBRI. The Society was established to promote the cause of environmental protection, biodiversity conservation, sustainable development and pollution mitigation.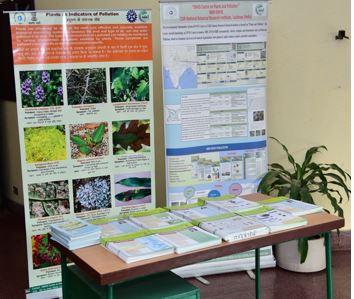 ISEB and CSIR-NBRI jointly celebrated 27th Foundation Day at CSIR-NBRI, Lucknow on March 15, 2022. On the occasion, Dr. V.P. Kamboj, Former Director, CSIR-CDRI, Lucknow was present as Chief Guest and Prof. RP Singh, Dean, Academic Affairs, BBAU, Lucknow presided over the function as Guest of Honor.


While welcoming the guests, Prof. S.K. Barik, Director, CSIR-NBRI and President of the society informed that ISEB was founded in the historic town of Lucknow, India and since its inception has been actively engaged in promoting research, education, and awareness on the role of plants in preserving our environment. He mentioned that the membership of ISEB has grown from 28 in 1994 to more than 570 now, covering several countries of the world, besides all corners of India. ISEB and CSIR-NBRI have jointly organized a series of International Conferences of Plant and Environmental pollution (ICPEP) in CSIR-NBRI with the participation of leading scientists from more than 40 countries across the globe
Prof. Barik further informed that ISEB is also a Scientific Member of International Union of Biological Sciences (IUBS), Paris, in the category "Ecology & Environmental Biology" since 2004. IUBS has recently funded a project "Environmental Education and Climate Change Adaptation: Science of Pollution-Tolerant and Climate Resilient Plants" to ISEB in collaboration with CSIR-NBRI. The project has the participation of 10 countries – India, Germany, Mexico, USA, Nepal, Finland, China, Bangladesh, Spain and Ecuador. The project aims to develop capacity for screening pollution tolerant and climate resilient plants for climate change adaptation at local level, as well as to enhance awareness on climate change adaptation strategies.
Prof. Barik also informed that every year ISEB also confers ISEB Fellowship and Young Scientist Award to researchers/scientists who have made significant research contributions in the field of Environmental and allied Sciences. ISEB Fellowship for the year 2020 was confers to 10 scientists whereas Young Scientist Award was awarded to three young researchers.


ISEB Fellowship

Dr. Ram Chandra, Professor, Department of Environmental Microbiology, BBAU, Lucknow
Dr. Tapan Kumar Mondal, Principal Scientist at National Institute for Plant Biotechnology, IARI Pusa.
Dr. Pankaj Kumar Srivastav, Principal Scientist and Head, Environmental Technologies Division of CSIR-NBRI, Lucknow.
Dr Ritu Trivedi, Senior Principal Scientist, CSIR-Central Drug Research Institute, India
Dr. Mukund Dev Behera, Associate Professor, Centre for Oceans, Rivers, Atmosphere and Land Sciences (CORAL), Indian Institute of Technology Kharagpur.

Dr. O.P. Dhankher, Professor, University of Massachusetts Amherst, USA.
Dr. Ali El-Keblawy, Professor, Sharjah University, UAE and Director of Seed Bank and Herbarium, Sharjah Research Academy.
Dr. Sudhakar Srivastava, Assistant Professor, Institute of Environment and Sustainable Development, Banaras Hindu University, Varanasi.
Prof. Piyush Pandey, Head, Department of Microbiology, Assam (Central) University, India.
Dr. Dinesh Mohan, Professor, School of Environmental Sciences, Jawaharlal Nehru University, New Delhi.

Young Scientist Award

Dr. Aditya Abha Singh, Assistant Professor, University Department of Botany, Babasaheb Bhimrao Ambedkar Bihar University, Muzaffarpur, Bihar.

Dr. Ashutosh Kumar Singh, Postdoctoral Fellow, CAS Xishuangbanna Tropical Botanical Garden (XTBG), Yunnan, China.
Dr. Apurva Rai, Team Leader representing KPMG (Klynveld Peat Marwick and Goerdeler) India.

Prof. Barik also told the audience that ISEB is publishing a quarterly newsletter Enviro-News since January 1995, with an aim to bring latest and complex scientific information on plants and environmental sciences to the reach of specialists and non-specialists, in simple language, and today it is highly popular scientific news magazine. ISEB has also launched a quaterly scientific journal International Journal of Plant and Environment (IJPE) since 2015 and in a short span of 7 years it has gained international acclaim and recognition. The latest issues of Journal and ENVIRONEWs were released by the ISEB President, Chief Guest, Guest of Honour and ISEB Secretary on the auspicious day.

The highlight of the programme were the deliberations of two Foundation Day lectures by the Chief Guest of the function Dr. Ved Prakash Kamboj FNASc, FNA, Chairman, BCIL, New Delhi and former Director CSIR-CDRI, Lucknow, and the Guest of Honour, Prof. Rana Pratap Singh, Dean Academic Affairs, BBA University, Lucknow.
First Foundation Day Lecture: Environment and quality of life by Dr. V.K. Kamboj
Dr. R.D. Tripathi, Secretary ISEB introduced the Chief Guest, Dr. V.K Kamboj as being the Fellow of various academies such as INSA, NASI and BRS, former Director CSIR-CDRI, Lucknow; Former Chairman, Bharat Immunological & Biological Corporation of India. Dr. Tripathi further told that, Dr. Kamboj was former President, NASI and currently NASI Hon. Scientist, at Biotech Park, Lucknow and Chairman, Board of Directors, Biotech Consortium India Ltd. (BCIL), New Delhi. He is recipient of over 20 R&D awards and has served and is presently serving as member/chairman of policy planning/R&D funding committees if ICMR, DST, DBT, CSIR, MoH&FW, MoC&F, CDSCO, Planning Commission and WHO.
Highlights of Dr. Kamboj's lecture
Dr. Kambhoj empasised on different environmental issues and its impact on quality of life of human beings. He talked on role of anthropogenic interventions in degrading environment and he highlighted issues like increase in discharge of chemical/waste from Industries into different water bodies and its contamination. He also discussed about heavy use of pesticides and heavy metals which are responsible for contamination of soil, deteriorating quality of food and affecting food-chain. He also highlighted on air quality deterioration due to release of air pollutants in air and its impact on human health as air pollution causes many diseases like bronchitis, asthma, emphysema, chronic obstructive pulmonary disease (COPD) and about 29% death are due to lungs dysfunction caused due to air pollution.

In the end he discussed about role of environmental sustenance to maintain quality of life like by minimizing discharge of harmful chemicals in river, reducing emission of air pollutants, use of biofertilizers and biopesticides to protect soil from heavy metal contamination and harmful chemicals and to reduce use of plastics and recycle them in valuable form like production of petrol from plastics.
Second Foundation Day Lecture: Converting Carbon Source into Carbon Sink- Designing novel Ecosystem for Sustainable Ecology and Environment by Prof. Rana Pratap Singh
Dr. Nandita Singh, Additional Secretary ISEB gave a brief introduction of Prof. R.P. Singh, Guest of Honour of the function. He is Professor of Environmental Science, Director IQAC, Dean Academic Affairs and Coordinator Centre for Industry and University Partnership Program in Babasaheb Bhimrao Ambedkar University, Lucknow. He has been Chairman, State Environmental Impact Assessment Authority, UP. Presently, Prof. Singh is President of Two National Academic Societies "The Society for Science of Climate change and Sustainable Environment" and "Society of Environmental Sustainability" and General Secretary of Professor HS Srivastava Foundation for Science and Society. He is fellow of various Societies like Indian Water Resources Fellowship by Indian Water Resources Society IIT, Roorkee, Founder Fellow of ISEB, , Fellow of Indian Society for Plant Physiology, ICAR - IARI, New Delhi, Fellow of Academy of Environmental Biology of India CSIR - IITR, Lucknow.
Highlights of Prof. Singh's lecture
Prof. Singh highlighted United Nation Sustainable Development goals which focuses on finishing hunger. According to him Sustainable food security should be ensured across the globe. To meet the increasing demand for food crops people have switched to inorganic agricultural practices from using enormous amounts of fertilizers to the inappropriate number of pesticides. This led to the degradation of soil and so many functional abnormalities in humans as well as animals. Another major cause of loss in crop production is climate change and loss of forest cover in the entire world. According to the Forest Survey of India (FSI), which comes under the Union environment ministry, declared the total forest and tree cover of India is currently 8,09,537 sq. km – spanning 24.62% of India's total geographical area and recommended forest cover should be 33% of the total geographical area. During 2018-19, around 97.85 million hectares (29.7%) of India's total geographical area (TGA) of 328.72 m ha underwent land degradation. So, land degradation is a limiting factor for food security. To rectify degraded land, ecological restoration and biodiversity measures should be followed at the ground level via national ecological polices and national socio-economic policies. This will result in food security and human well-being. Ecological policies include the design of a novel ecosystem.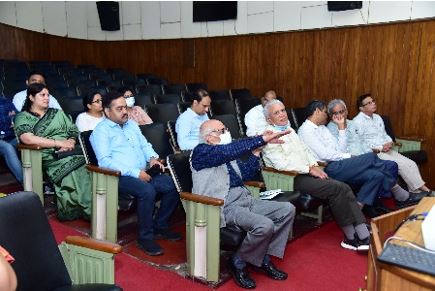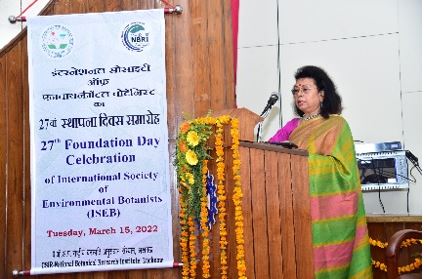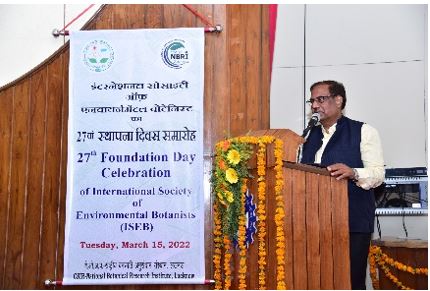 The idea of novel ecosystem design is not new; however, it is more realistic and needed in the current scenario. A designer ecosystem has several befits over existing ecosystems. Designer ecosystems have additional GHGs sink and also contain enriched endemic species that in turn enhanced biodiversity, soil stability and increased genetic pool. A designer ecosystem can be designed for sorting the targeted problem like degraded wetlands. Yamuna Biodiversity Park is one successful example of a designer ecosystem. This can also solve the problem of degraded Riparian belts. A designed Riparian belt provide lots of ecosystem and economic services that add value to the quality of the environment. A designed ecosystem provides a suitable environment for the growth of beneficial and endemic soil microbes and these microbes along with endophytes plays crucial role in maintaining plant growth and productivity. However, much concern should be given to ecological restoration by the means of designing novel ecosystems to overcome problems of food security, heavy metal and degraded land problems. After opting designed ecosystem, we can generate economically and ecologically useful below ground and above ground ecosystems in the wasteland on low expenditure which will convert carbon sources into carbon sinks which will give us enormous economic and ecological benefits.
After the lectures Prof. S.K. Barik, President ISEB and Director CSIR-NBRI, facilitated the Chief Guest and Guest of Honour. Dr. Vivek Pandey, Chief Scientist CSIR-NBRI and Joint Secretary ISEB, proposed a vote of thanks.