WORLD ENVIRONMENT DAY CELEBRATION AT CSIR-NBRI
---
CSIR-NBRI, Lucknow celebrated World Environment Day on June 05, 2017 in collaboration with International Society of Environmental Botanists (ISEB), U.P. Council of Science & Technology (UP CST) and Economic Botany Information Service (ENVIS), NBRI Centre. On this occasion, Dr. Dinesh Sharma, Hon'ble Deputy Chief Minister, U.P. was the Chief Guest and Dr. P.K. Seth, Ex-Director, CSIR-IITR and Ex-CEO, Biotech Park; Lucknow was the Guest of Honour.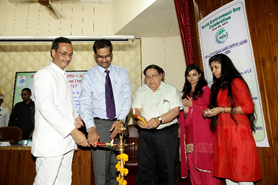 In his inaugural address, Prof. S.K. Barik, Director NBRI welcomed the Chief Guest, other dignitaries and a large number of students from local schools and colleges, and highlighted the history and importance of World Environment Day. Prof. S.K. Barik informed that CSIR-NBRI was continuously working for the safety of our environment. He also highlighted some of the multi-targeted programmes of CSIR-NBRI running for clean and green environment. Prof. Barik also discussed the developmental strategies of green belts along the rivers. He also informed about the recently developed low arsenic rice variety by NBRI scientists and suggested for its large scale uses in Uttar Pradesh. He also sought help and support from State Government for floriculture industry set up and herbal medical research.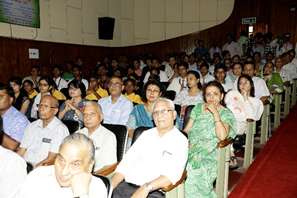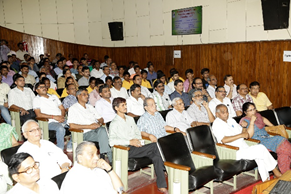 Dr. Pankaj Kumar Srivastava, Senior Scientist informed about ENVIS-NBRI Centre supported by the Ministry of Environment & Forests, Govt. of India along with environmental conservation and awareness programmes being conducted by the ENVIS-NBRI, including newly developed android mobile application app Green Planner for citizens available at Google Play Store. He also made a reference of ISEB and its contributions since its founding in 1994. During the programme, an ENVIS-NBRI Newsletter "Indoor Air Pollution" and EnviroNews, a quarterly publication were released by the chief guest.
Dr. P.K. Seth in his presidential address appreciated that CSIR-NBRI and ISEB were working for the safety of environment. He emphasized that India was the only country where the environment was linked to religion. Plants and rivers were worshiped in India for ages. He underscored the importance of organizing awareness programmes for clean and green environment; besides need for plantation of drought resistant and medicinal plants for the protection of environment.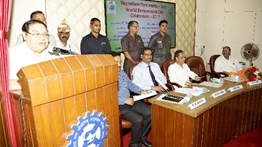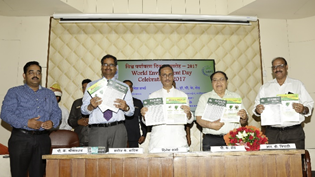 Chief Guest of the function, Hon'ble Deputy Chief Minister, Dr. Dinesh Sharma in his address, emphasized on better harmony between environmental conservation and human life-style. Dr. Sharma said that our ancestors were very much aware about the importance of nature conservation and, therefore, they linked different plants and animals to various religious rituals. He called upon the audience to conserve nature and environment as a day-to-day need, not only just to celebrate as a special day.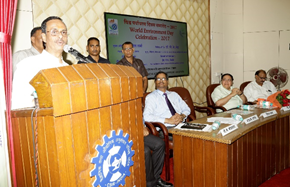 Dr. Sharma reminded about linking of each tree to each planet covering major nine planets of the universe. Dr. Sharma informed about a tree bank of 35000 trees that he initiated during his tenure as Mayor of Lucknow earlier. These trees were planted as a mission in the city with the help of students of schools, colleges, universities and Lucknow Municipal Corporation. Dr. Sharma appreciated the proactive role of institutions like NBRI in the State Government's efforts for development vis-a-vis environmental conservation through green technologies in collaboration with different state departments. Students from major educational institutions (Saarthak Foundation, Ahsaas Organization, Integral University, Amity University, RLB, CMS schools) participated in the programme at NBRI as a part of World Environment Day Programme. The Chief Guest, Dr. Dinesh Sharma planted a sapling of "Rudraksh" tree at NBRI lawn. Guest of Honour Dr. P.K. Seth also planted a sapling of 'Chandan' tree. Members of International Society of Environmental Botanists, CMS Founder Dr. Jagdish Gandhi, Prof. RS Tripathi were present during the programme. In the end, Dr. R.D. Tripathi, Additional Secretary of ISEB proposed vote of thanks.