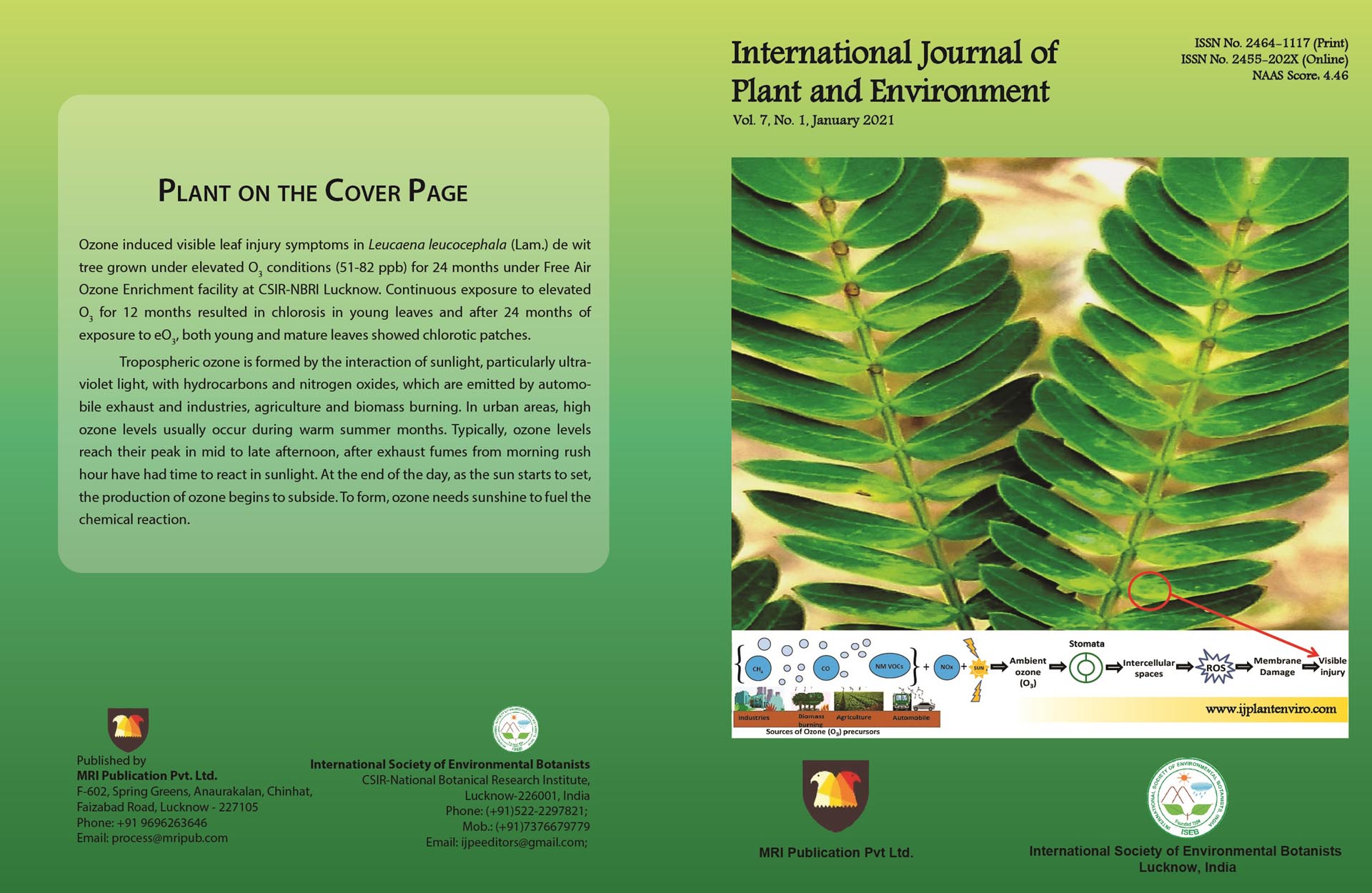 INTERNATIONAL JOURNAL OF PLANT AND ENVIRONMENT
---
International Journal of Plant and Environment (IJPE), an official organ of International Society of Environmental Botanists (ISEB) is a peer reviewed interdisciplinary journal aimed at advancing and encouraging the studies on interaction of plants with their environment. IJPE was founded by a team of botanists and environmental scientists to accelerate the publication of scientific advancement in understanding the responses of plants to its environment.
IJPE welcomes high quality original full length research papers besides review articles on studies related to environmental contamination of air, water and land, bioremediation strategies for controlling pollutants, bio indication, eco system dynamics and forest degradation, environment and biodiversity conservation, sustainable agriculture, global climate change impacts on plants, responses of plants to abiotic stresses (salinity, heavy metals, drought, temperature stress, flooding etc.) and biotic stresses (plant insect, plant pathogen and plant microbe interaction), The manuscripts submitted are evaluated on the basis of methodological rigor and high ethical standards besides perceived novelty. IJPE presently publishes two issues per annum and there are no costs for publishing.
The publications in IJPE are under different categories, viz., original research papers, short research communications research update/ mini reviews, commentaries, original research articles, mini reviews/ research update shall not exceed 10 printed pages. The articles published under the short communication category are expected to contain path breaking researches requiring urgent publication. The length of such articles shall be restricted to four printed pages.
EDITORIAL BOARD
---
Chief Editors
---
Dr. Rudra Deo Tripathi
CSIR-National Botanical
Research Institute, Lucknow,
India (tripathird@gmail.com)
Dr. P.V. Sane
CSIR-National Botanical
Research Institute, Lucknow,
India (rajsane@hotmail.com)
Dr. Rudra Deo Tripathi
CSIR-National Botanical
Research Institute, Lucknow,
India (tripathird@gmail.com)
Prof. S.K. Barik
CSIR-National Botanical
Research Institute, Lucknow,
India (sarojkbarik@gmail.com)
Prof. Francisco J. Corpas
Estación Experimental del Zaidín,
CSIC, Spain
(javier.corpas@eez.csic.es)
Prof. Om P. Dhankher
University of
Massachusetts, Amherst,
USA
Dr. Rer. Nat. Somidh Saha
Karlsruhe Institute of Technology,
Karlsruhe, Germany
(somidh.saha@kit.edu)
Prof. S.R. Yadava
Shivaji University,
Kolhapur, India
(sryadavdu@rediffmail.com)A
Prof. R. Umashanker
University of Agriculture Science,
Bengaluru, India
(umashaanker@gmail.com)
Prof. R.K. Kohli
Central University of Punjab,
Bathinda, India
(rkkohli45@yahoo.com)
Dr. Sunil Kuma
Colorado State
University, USA
(sunil.kumar@colostate.edu)
Prof. M.N.V. Prasad
University of Hyderabad,
Hyderabad,
India
Dr. Prabodh K. Trivedi
CSIR-Central Institute of Medicinal
and Aromatic Plants, Lucknow, India
(prabodht@hotmail.com)
Dr. D.K. Upreti
CSIR-National Botanical
Research Institute, Lucknow,
India (upretidknbri@gmail.com)
Dr. U.C. Lavania
University of Lucknow,
Lucknow, India
(lavaniauc@yahoo.co.in)
Prof. Shivendra Sahi
Western Kentucky University
Kentucky, USA
(shiv.sahi@wku.edu)
Prof. P. Suprasanna
Bhabha Atomic Research Centre (BARC),
Mumbai, India
(prasanna@barc.gov.in)
Prof. Rana Pratap Singh
Babasaheb Bhimrao
Ambedkar University,
Lucknow, India
Dr. Nandita Singh
CSIR-National Botanical
Research Institute, Lucknow,
India
Prof. S.P.S. Kushwaha
Indian Institute of Remote
Sensing, Dehradun, India
(spskushwaha@gmail.com)
Prof. Dr. Erwin Grill
Technische Universität München
Freising-Weihenstephan,
Germany (grill@wzw.tum.de)
Pradeep Tiwari
Business Manager
MRI Publication Pvt. Ltd., Lucknow
India (pradeep@mripub.com)
Dilip Kumar Chakraborty
Editorial Assistant
Lucknow
(dkcapratim@gmail.com)
Prof. J.N.B. Bell
Imperial College,
London, UK
(n.bell@imperial.ac.uk)
Prof. Fiona Marshall
University of Sussex,
Falmer Brighton, UK
(f.marshall@sussex.ac.uk)
Prof. Elena Paoletti
Institute for Sustainable Plant Protection, National Research Council, Torino, Italy (e.paoletti@ipp.cnr.it)
Prof. M. Munawar
Fisheries & Oceans
Canada, Ontario, Canada
(mohi.munawar@dfo-mpo.gc.ca)
Prof. L.J. DeKok
University of Groningen,
Groningen, The Netherlands
(l.j.de.kok@rug.nl)
Prof. Elina Oksanen
University of Eastern
Finland, Joensuu,
Finland (elina.oksanen@uef.fi)
Prof. Kenji Omasa
The University of Tokyo,
Tokyo, Japan (aomasa@mail.ecc.u-tokyo.ac.jp)
Prof. Ahmad Kamel Hegazy
Cairo University, Giza,
Egypt (hegazy@sci.cu.edu.eg)
Prof. Münir Öztürk
EGE University, Izmir,
Turkey (munirozturk@gmail.com)
Prof. Vangimalla R. Reddy
Crop Systems & Global Change Laboratory, Beltsville, Maryland, USA (vr.reddy@ars.usda.gov)
Prof. Dingqiang Li
Chinese Academy of Sciences, Guangzhou,
China (lidq@gzb.ac.cn)
Dr. Gareth J. Norton
University of Aberdeen, Aberdeen,
UK (g.norton@abdn.ac.uk)
Prof. Kazimierz Jan Strzalka
Jagiellonian University in Krakow,
Poland (kazimierzstrzalka@gmail.com)
Dr. Alexander G. Ivanov
University of Western Ontario, London, Ontario,
Canada (aivanov@uwo.ca)
Prof. Juan B. Barroso
University of Jaen, Campus Universitario "Las Lagunillas" Jaen, Spain (jbarroso@ujaen.es)
Prof. J.S. Singh
Banaras Hindu University, Varanasi (singh.js1@gmail.com)
Prof. S.P. Singh
Central Himalayan Environment Association (CHEA), Nainital (surps@yahoo.com)
Prof. L.C. Ra
Banaras Hindu University, Varanasi (lcrbhu15@gmail.com)
Prof. L.M.S. Palni
Graphic Era University, Dehradun (lmspalni@rediffmail.com)
Prof. P.K. Seth
Biotech Park, Lucknow (prahladseth@gmail.com)
Prof. Arun Goyal
Riverside City College, Riverside, USA (arungoyal2010@gmail.com)
Dr. Akhtar Jamal Khan
5063 Vinings Blvd., Dublin, USA (begomovirus.oman@gmail.com)
Prof. V.P. Aneja
North Carolina State University, North Carolina, USA (vpaneja@ncsu.edu)
Prof. David Grantz
University of California, USA (dagrantz@ucanr.edu)
Prof. K. Raja Reddy
Mississippi State University, Mississippi State, USA (krreddy@pss.msstate.edu)
Prof. C.K. Varshney
Jawaharlal Nehru University, New Delhi (ckvarshney@hotmail.com)
Prof. Dinesh Mohan
Jawaharlal Nehru University, New Delhi, India (dm_1967@hotmail.com)
Prof. B.C. Tripathy
Jawaharlal Nehru University, New Delhi, India (baishnabtripathy@yahoo.com)
Prof. M. Yunus
M.A. Jauhar University, Rampur (mykabdali@yahoo.co.in)
Prof. M. Iqbal
Hamdard University, New Delhi (iqbalg5@yahoo.co.in)
Prof. B.K. Tiwari
North-Eastern Hill University, Shillong (bktiwarinehu@gmail.com)
Prof. A.S. Raghubanshi
Banaras Hindu University, Varanasi (director.iesd.bhu@gmail.com)
Prof. Madhoolika Agrawal
Banaras Hindu University, Varanasi (madhoo58@yahoo.com)
Prof. N.K. Dubey
Banaras Hindu University, Varanasi (nkdubeybhu@gmail.com)
Prof. Uma Shankar
North-Eastern Hill University, Shillong (arshuma@yahoo.com)
Prof. Rajendra Prasad
26695 Meghan Rose Way, East Amherst, NY 14051, USA (rajuma36@gmail.com)
Dr. S.K. Tiwari
CSIR-National Botanical Research Institute, Lucknow (tewari.nbri@gmail.com)
Dr. A.K. Gupta
Ministry of Environment and Forest and Climate Change, Lucknow (amitenv@gmail.com)
Dr. Alok K. Sinha
National Institute of Plant Genome Research, New Delhi (alok@nipgr.ac.in)
Dr. Vivek Pandey
CSIR-National Botanical Research Institute, Lucknow (vivekpandey64@yahoo.com)
Dr. R.R. Rao
Indira Nagar, Bengaluru (raocimap@gmail.com)
Prof. B.B. Panda
Berhampur University, Berhampur (panda.brahma@gmail.com)
Dr. M. Sanjappa
University of Agricultural Sciences, Bengaluru (sanjappam@ymail.com)
Dr. K.J. Ahmad
CSIR-National Botanical Research Institute, Lucknow (kjahmad@gmail.com)
Dr. S.C. Sharma
CSIR-National Botanical Research Institute, Lucknow (scsharmagardener@gmail.com)
Prof. S.B. Agrawal
Banaras Hindu University, Varanasi (sbagrawal56@gmail.com)
Prof. A.C. Shukla
Eastern Washington University, Cheney, USA (acs_contributions@yahoo.co.in)
Prof. Kumkum Mishra
Lucknow University, Lucknow (mishrakumkum22@gmail.com)
Prof. P.L. Uniyal
University of Delhi, New Delhi (uniyalpl@rediffmail.com)
Prof. Rupam Kapoor
University of Delhi, New Delhi (kapoor_rupam@yahoo.com)
Dr. Nikhil Kumar
CSIR-National Botanical Research Institute, Lucknow (nkumar1650@gmail.com)
Dr. A.K. Asthana
CSIR-National Botanical Research Institute, Lucknow (drakasthana@rediffmail.com)
Prof. Naveen Arora
Babasaheb Bhimrao Ambedkar University, Lucknow (nkarora.bbau@gmail.com)
Dr. Veena Chandra
Forest Research Institute, Dehradun (veenachandra21@gmail.com)
Dr. P.C. Abhilash
IESD, Banaras Hindu University, Varanasi (pcabhilash@gmail.com)
Dr. Sudhakar Srivastava
IESD, Banaras Hindu University, Varanasi (sudhakar.srivastava@gmail.com)
Dr. Pankaj Kumar Srivastava
CSIR-National Botanical Research Institute, Lucknow (drpankajk@gmail.com)
Dr. Shekhar Mallick
CSIR-National Botanical Research Institute, Lucknow (shekharm@hotmail.com)
Dr. Debasis Chakrabarty
CSIR-National Botanical Research Institute, Lucknow (chakrabartyd@hotmail.com)
Dr. K. Haridasan
Foundation for revitalization of Local Health Traditions (FRLHT), Bengaluru (haridasank9@gmail.com)
Prof. Padma Venkat
Transdisciplinary University, Bengaluru (padma.venkat@tdu.edu.in)
Dr. A.A. Mao
Botanical Survey of India, Shillong (aamao2008@gmail.com))
Dr. Anjum Farooqui,
Birbal Sahni Institute of Palaeosciences, Lucknow (afarooqui_2000@yahoo.com)
Prof. Seshu Lavania
Lucknow University, Lucknow (lavaniaseshu@yahoo.co.in)
Prof. Felix Bast
Central University of Punjab, Bathinda (felix.bast@gmail.com)
Dr. Mukunda Dev Behera
Indian Institute of Technology, Kharagpur (mdbehera@coral.iitkgp.ernet.in)
Dr. Seema Mishra
Dean Dayal Upadhyay Gorakhpur University, Gorakhpur (seema_mishra2003@yahoo.co.in)
Dr. Ratul Baishya
University of Delhi, New Delhi (rbaishyadu@gmail.com)
Prof. Siba Prasad Adhikary
Visva-Bharati University, Santiniketan
(adhikarysp@visva-bharati.ac.in)
Prof. Parth Sarathi Roy
University of Hyderabad, Hyderabad (psroy13@gmail.com)
Prof. Zafar Ahmad Reshi
University of Kashmir, Srinagar
(zreshi@yahoo.com)
Prof. Malapati K. Janarthanam
Goa University, Goa (mkjana@yahoo.com)
Prof. Narayanaswamy Parthasarathy
Pondicherry University, Pondicherry (prthapu@yahoo.com)
Prof. Dr. Hukam S. Gehlot
J.N. Vyas University, Jodhpur (hsgehlot@gmail.com)
Prof. R.S. Upadhyay
Banaras Hindu University, Varanasi (upadhyay_bhu@yahoo.co.uk)
Dr. Sanjay Dwivedi
CSIR-National Botanical Research Institute, Lucknow (drs_dwivedi@yahoo.co.in)
Dr. Rajesh Bajpai
CSIR-National Botanical Research Institute, Lucknow (bajpaienviro@gmail.com)
Dr. Preeti Tripathi
Ministry of Environment and Forest and Climate Change, Lucknow (preeti.tripathi@gov.in)
Dr. P.K. Divakar
Complutense University of Madrid, Spain (pdivakar@farm.ucm.es)
Dr. Dwaipayan Sinha
Government General Degree College, P. Medinipur (dwaipayansinha@hotmail.com)
---
More details of IJPE and Published papers click below
www.ijplantenviro.com